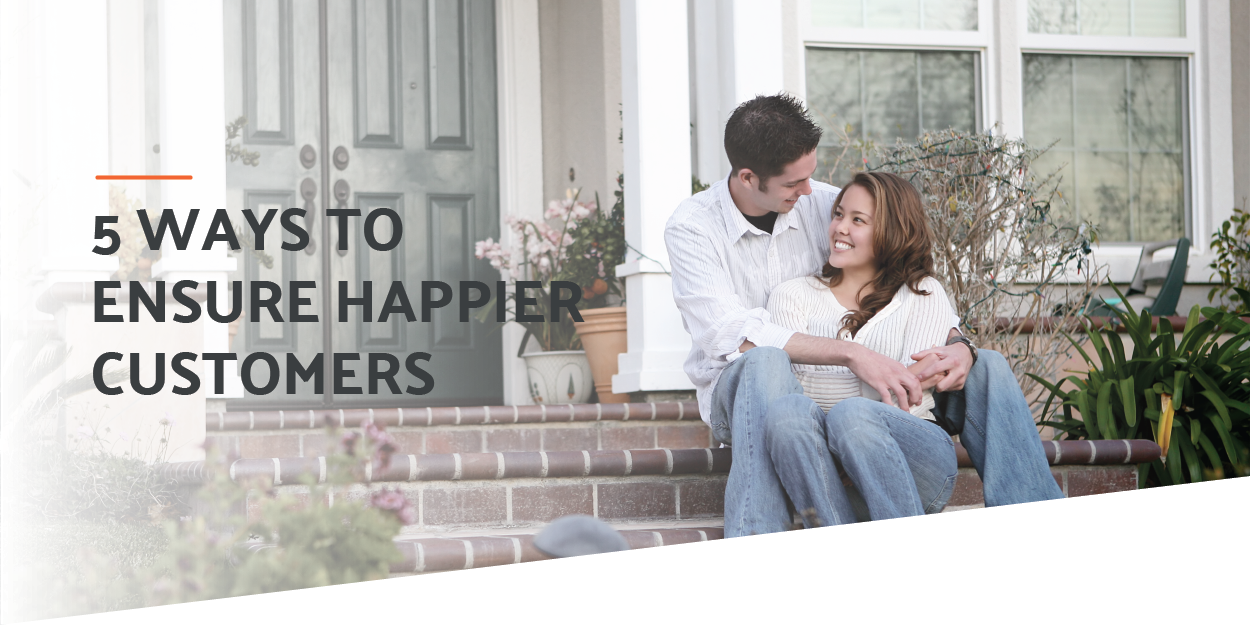 5 WAYS TO ENSURE HAPPIER CUSTOMERS
You know those companies that make you feel special or warm and fuzzy after you've dealt with them? You leave feeling like you got more than you paid for and you would happily return and buy more from them? Why not be one of those companies! As a business owner, it's easy to get caught up in the day to day operations that you can forget to take the time to instill "above and beyond" practices into your business. At Renoworks, we're fortunate to work with hundreds of contractors and we get to see an inside scoop on who's doing what the best. We've compiled 5 unique ideas we've seen over the years to give homeowners that warm and fuzzy feeling after working with you.
1. Hire a Customer Experience Manager
Customers pay more money for peace of mind. Want to charge higher prices? Dedicate someone on your team to be solely concerned with the homeowners' needs and ensuring they have a positive experience. This Manager will be responsible for making sure none of your customers feel stressed out, confused or unheard. They will develop and enforce predictable processes, and come up with ways to minimize any miscommunication or pain points that most homeowners experience.
2. Make giving online reviews easy
Let's face it -people are generally so busy with their own lives that they don't often go out of their way to provide an online review unless they had a horrible experience. But if it's easy to give a positive review, they probably will. Integrate with systems that remind and prompt your customers to provide reviews and that share the review across multiple review sites. From pleased to downright ecstatic customers, you want everyone to see what they have to say.
3. Be transparent
Make sure your customers understand what they're paying for. Our study shows that almost 50% of homeowners prefer very detailed quotes. If you charge higher prices, make sure they understand the quality of the products you use, the skilled workmanship of your highly paid workers, and all the other software programs or technology you use to provide accurate quotes, better product and color choice tools, and overall a better experience for them. As long as people understand, they won't feel like they're being overcharged.  Learn more about our study by downloading our 2018 Consumer Survey here.
4. Give "New Home" gifts
Go the extra mile with your customers. A card with a before and after picture or a bottle of wine or small plant is a heartfelt gesture to wrap up the project and congratulate the homeowner on their new home. The little things will set you apart from the competition and will be what your customers remember! Check out our Pinterest board for more ideas!
5. Don't let the dogs out!
There is nothing worse than losing credibility with your homeowner because you put their precious pets in harm's way. We heard a crazy tale once from a contractor that almost lost a middle aged woman's prized little dog. He chased the dog several blocks after it escaped the yard and jumped after it into the river. He got hold of the little dog but then it started snapping and biting at his face. He slipped and accidentally knocked out the dog. He frantically caressed the dog until it came to. And then he heroically, soaking wet and covered in dog fur and mud, carried the dog back to its anxious mother, his customer. Always make sure the pets are locked up safely and hopefully this won't become the one thing the customer remembers about their experience with you.
That's a few tips! Do you have any helpful tricks you like to share? Email us at social@renoworks.com and we might just incorporate them in the next article.
Have a great one!